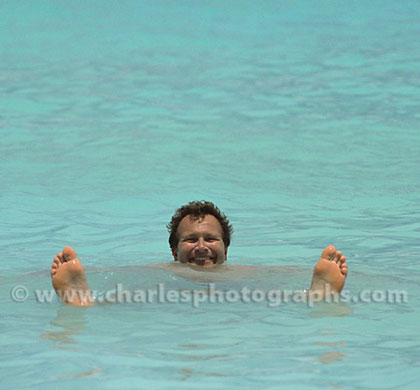 'The way is in training, training is the way"
Miyamoto Musashi, Japans greatest Samurai, 1584-1645
I produce advertising photographs designed to give advertising agencies and marketers a significant strategic advantage over their competitors. Deliberately constructed photos that look better, say more, sing louder, and live longer.
I do this because married to my passion for capturing beauty is also a wealth of commercial, technical and legal experience gained from numerous other assignments and situations.

I try to blend style with substance; the images impact immediately but often won't reveal all their detail instantly, which is my way of thanking people for choosing to spend more time with the shot by examining it more closely.
For some years I was a full member of the AIPA ( Advertising & Illustrative Photographers Association) but sadly resigned due to what to me was it's myopic and disillusioning (!) outlook. While I agree with and abide by it's operating code, I go beyond it and make it my mission to deliver what you want and need. Your business comes first. I only succeed when my clients succeed. It's that simple.
No surprises, no excuses
I live by this, and here you can find out what some of my clients say.
YES!

An expert on-location advertising photographer, with full studio facilities in Parnell, Auckland. I shoot still advertising photographs of food, people, scenes and land for ad agencies, publishers, Governments, airlines, and leading businesses in the food, entertainment, hospitaility and travel industries.
I can shoot in many formats, under any conditions, anytime, anywhere - on land, on or in water, or from up in the air.

NO!

I don't shoot weddings or babies, I've never worked for the cheap weekly women's magazines, and neither can I shoot empty celebrities.

Where?

I'm based in Auckland, New Zealand and have worked extensively on location all around the world, but mainly throughout the Pacific Islands and increasingly, Asia.
Have on-location experience within Australia, China, Cook Islands, Fiji, France, Germany, Japan, Kenya, Malawi, New Zealand, Niue, Samoa, Tanzania, Thailand, Tonga, Zambia, Zanzibar, Zimbabwe.

Work comes first

We share the same world! I have never, ever missed a deadline, and fully grasp the real-time demands, intense pressure and technical processes of the advertising, travel and publishing industries, and

Passionate about excellence

With over 16 years advertising & on-location experience, I like to work with people and am extensively equipped with leading lighting, lenses, digital (and film!) cameras along with massive computing power allowing in-house or on-location image processing using Adobe CS5 and Lightroom 3.
I offer full in-house post-production facilities based around digital and printed media. My commitment to ensuring all your work is safe includes triple archiving to multiple and offsite locations.
I constantly study software and technique.
Experience has also taught me to calmly overcome the technical hardships that locations always present!

Track record

Find out what my clients think of me here
Commercial clients include Airlines, a number of Pacific Island Government Tourist Offices, leading travel businesses within the Pacific; influential NZ architects & designers. I've also contributed infrequently over many years to leading travel and consumer magazines like Fashion-Quarterly, BMW, and with publishers Penguin, Raupo Publishing, ACP, John Sands and Hallmark.

Multi-lingual

I speak fluent English, French and German, and rudimentary but improving Cantonese, Mandarin, and Japanese.